WHY CHOOSE EASYLIFE KITCHENS
10 reasons why you should choose Easylife Kitchens
Peace of mind
We are members of the Kitchen Specialists Association (KSA) and the Franchise Association of South Africa (FASA).
Convenient location
Well-appointed showrooms nationwide for the convenience of our customers.
Design exclusivity
Our designers can assist you with the layout of your dream kitchen,using state-of-the-art computer-aided design technology.
Locally manufactured products Our two modern, constantly upgraded factories in Gauteng and Western Cape are dedicated to our franchises.
Care and attention
The person that owns the store runs the store. Giving you the best service is our top priority.
Transparent costings
Fully itemised quotations are available, so you know exactly what you're getting, and what you're paying for.
Quality guarantee
Only first-grade materials are used. Our kitchen units have a two-year guarantee, and our hinges and runners have a lifetime guarantee.
Widest range
From the selection of designs and finishes, extras and accessories, you'll find everything you need right here.
Branded appliances
We offer most makes of free-standing and integrated branded appliances, fixtures and fittings, for more quality assurance.
All domestic storage solutions
Your one-stop-shop for kitchens, built-in cupboards, vanities, studies and bars.
THE KITCHEN SPECIALISTS ASSOCIATION
What is the Kitchen Specialists Association (KSA)?
The Kitchen Specialists Association (KSA) is a national association that represents reputable kitchen manufacturers and associated suppliers in South Africa, with a view to promoting growth and education within the industry and facilitating solution-driven resolutions between members and consumers.
Their mission is to create a professional, stable trading environment in which the industry can prosper and consumers can enjoy the reassurance and peace of mind that comes from dealing with reputable dealers.
Why choose a registered KSA installer and supplier?
KSA members are committed to providing quality products by ensuring that the best quality materials are used for the price quoted. Consumers are assured of outstanding service before, during and after installation. If you were to encounter problems along the way and lodge a legitimate complaint with the KSA within one year of the date of purchase, the association will give you the necessary assistance and protection you require to resolve the situation.
About the KSA and its members
There are two categories of KSA membership, namely ordinary and affiliate members. Ordinary members of the KSA are companies that manufacture and/or install kitchens. These companies are required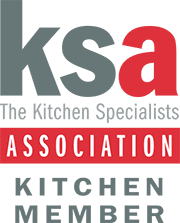 to offer their customers a minimum guarantee of one year on their product and installation. In addition, they must have a showroom where prospective customers can view the quality of product and installation that you can expect in your home.
Affiliate members of the KSA are companies that are affiliated to the kitchen industry by supplying a wide range of related products, including manufacturers and suppliers of boards, surfaces, sinks, taps, doors, handles, appliances, computer design software, etc.
All members have to adhere to the KSA's strict code of ethics, which covers manufacturing, installation and service standards. Members' references are screened thoroughly and they need to have been trading for a minimum of three years, and be registered in terms of South African law.
It is an acceptable standard for kitchen manufacturers and installers to request a 50% deposit on the signing of the contract, with a further 40% on the delivery of the carcasses to site, followed by the final 10% payment on completion of the work and signing off the job.
In the event of a dispute that requires intervention by the KSA, all members have signed an agreement to abide by any ruling handed down by the KSA, thereby providing consumers with total peace of mind.