The Kitchen Specialist Association
We are trusted members of the KSA
What is the Kitchen Specialists Association (KSA)?
The Kitchen Specialists Association (KSA) is a national association that represents reputable kitchen manufacturers and associated suppliers in South Africa.
KSA has the view to promoting growth and education within the industry and facilitating solution-driven resolutions between members and consumers.
Their mission is to create a professional, stable trading environment in which the industry can prosper and consumers can enjoy the reassurance and peace of mind that comes from dealing with reputable dealers.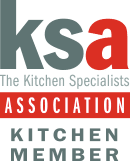 Why choose a registered KSA installer and supplier?
KSA members are committed to providing quality products by ensuring that the best quality materials are used for the price quoted. Consumers are assured of outstanding service before, during and after installation. If you were to encounter problems along the way and lodge a legitimate complaint with the KSA within one year of the date of purchase, the association will give you the necessary assistance and protection you require to resolve the situation.
About the KSA and its members
There are two categories of KSA membership, namely ordinary and affiliate members. Ordinary members of the KSA are companies that manufacture and/or install kitchens.
Looking to get started or maybe want to get a rough idea on how much you should be investing?
Try one of these helpful links below to or give us a call if you can't find the info you need.